Posts Tagged 'USA'
Posted in Cuba, Estados Unidos, Política, Sociedad, tagged Cuba, Guantánamo, Guantánamo Bay, Guantánamo Bay detention centre, human rights, prisioners, USA on 13/01/2021| Leave a Comment »
GENEVA (11 January 2021) – UN human rights experts* today appealed to the new U.S. Administration to immediately close the Guantánamo Bay detention centre, saying the remaining detainees risk death from rapidly deteriorating health by old age and mental and physical harm suffered in cruel and inhuman conditions of imprisonment.
(más…)
Whether it's police violence, poor medical care, or simply trying to breathe, we suffer from an underlying condition: racism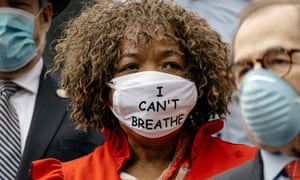 Derrick Johnson
We die driving our cars. We die playing outside. We die babysitting. We die eating ice cream. We die sleeping in our own beds. We die and die and die at the hands of the police who are sworn to serve and protect us.
Even then, we are not done dying. We die giving birth. We die trying to breathe. We die when doctors under-treat our heart attacks and dismiss our calls for help.
(más…)